Aeolian Politics poetry workshop: exploring how poetry speaks with anthropology.
Workshop 2-5pm Saturday, November 21, 2015
Emmanuel Gallery
1205 10th Street Denver, CO 80204
This workshop is organized in conjunction with the exhibition "Ethnographic Terminalia presents Aeolian Politics" which features the work of Binnizá (Zapotec) poet, Victor Terán.
"Aeolian Politics poetry workshop" offers the opportunity to explore relationships between poetry and anthropology with a specific focus on the various creative and critical challenges poetry poses to anthropological thought and writing.
The workshop is open to anyone (anthropologists, poets, students) and free, though spaces are limited. Participants must come with a short prepared statement (that can include poems or conventional writing) no longer than 300 words. The emphasis in this workshop is sharing com- posed ideas and thoughts; we request that people do not speak 'off-the-cuff' but come with a prepared bit of writing. After reading these short pieces we will open a discussion on themes raised in the writing. It is, as such, a very open format designed primarily to give anthropologists interested in poetry (both as an object of study and as a method of communication) an opportunity to meet with others in an informal setting. The workshop will be run in Spanish and English with some limited translation.
Binnizá (Zapotec) poet, Victor Terán, will be in attendance via video connection.
The workshop will be led by Anthony Webster (UT Austin) with support from members of the Ethnographic Termi- nalia Collective. Also present will be Cymene Howe (Rice University) and Baird Campbell (Rice University) as interpreter.
Note that there are very limited spaces available for this work- shop. Please send an email to ethnographicterminalia@gmail.com with the subject heading "poetry workshop" to inquire if there is space.
Download the announcement: 2015-11-10-interactive.pdf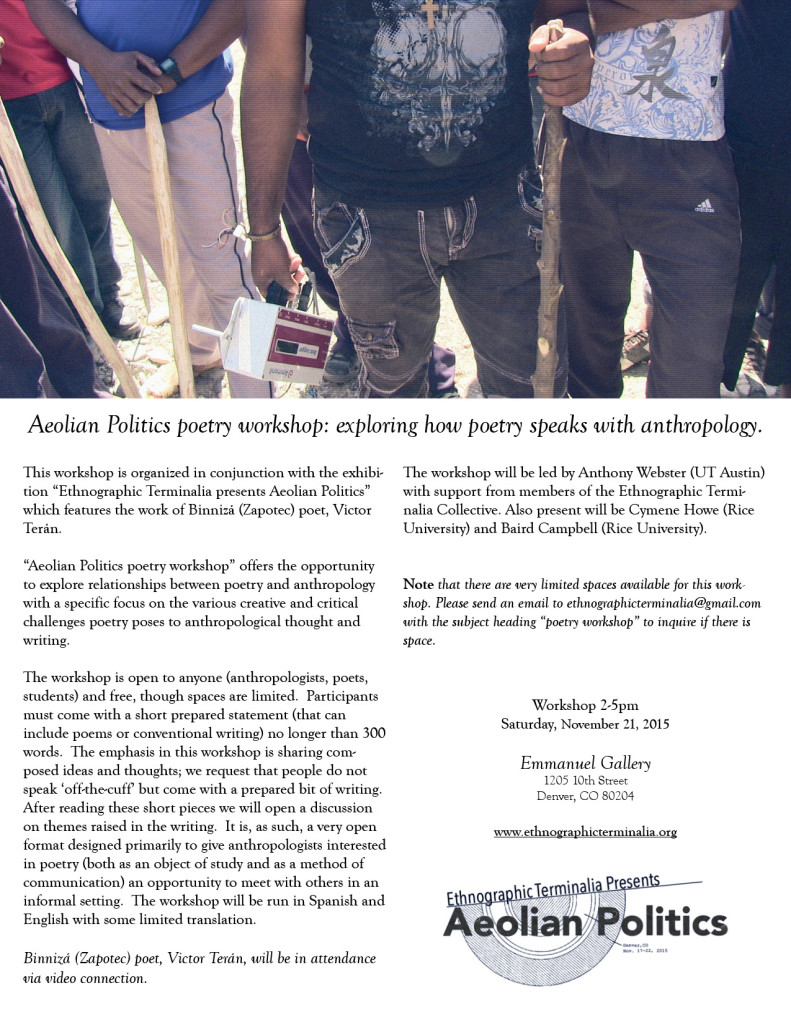 Biographies
Victor Terán. Víctor Terán is the most personal poet of the Zapotec Isthmus of Oaxaca, México. He was born in Juchitán de Zaragoza in 1958. His work has been published extensively in magazines and anthologies throughout Mexico. Since 2000, he has also appeared in anthologies in Italy and the United States (Reversible Monuments, Copper Canyon: 2002; Words of the True Peoples, U Texas P: 2005).
A three-time recipient of the national fellowship for writers of indigenous languages, his first book, Diixda; Xieeña (Barefoot Words) was republished in 1997 by Ediciones Bi'cu' Nisa. His books of poetry include Sica tiGubidxa Cubi (Like a New Sun; Editorial Diana: 1994) and Ca Guichi Xtí' Guendaranaxhii (The Spines of Love; Editorial Praxis: 2003). Terán works as a media education teacher at the secondary level, on the Oaxacan Isthmus.
In 2009 his poetry in translation has appeared or is forthcoming in Hayden's Ferry Review, Oxford Magazine, Poetry, and World Literature Today. [Quoted from Poetry Translation Center]
Anthony Webster. I am a linguistic anthropologist who studies ethnopoetics and verbal art more generally. My focus is on the intersections between verbal art and poetics, the individual, acoustemology, language change, language contact, aesthetics, and linguistic and social inequalities (the whole life of a language). This leads me to think a great deal about felt connections to linguistic forms in use and over time. Questions of imagination and expressive satisfication loom large (and loudly) here as well. My goal in this work is not so much "translation," but rather with the proceses of attunement–of coming to terms with the particularities of our exuberances and deficiencies. Particularities of memory, of history, of people, of time, and of languages. I have worked primarily with Navajo poets. My current work focuses on mondegreens (the mishearing of the words of a poem or song) as imaginative accomplishments.
Baird Campbell is a second year doctoral student in Anthropology at Rice University. His dissertation project examines processes of history-making and the creation of alternative archives among Chilean queer activists, focusing specifically on the use of history in performative protest and the use of new media for archival purposes. He has served as adjunct Spanish faculty at Finlandia University, and has worked as a translator for Harvard University Press, the George Wright Society, and Revista "Le Trans," Chile's first journal of Trans activism. He has also served as an interpreter and community educator for immigrant rights programs in Michigan and Louisiana. Campbell has lived, worked, and researched in Spain with the support of the US Department of State Fulbright grant, and in Chile with the support of Rotary International, the Tinker Foundation, and the James T. Wagoner '29 Foreign Studies Scholarship. He holds BA's in Latin American and Caribbean Studies, Applied Linguistics, and French and Francophone Studies from the University of Michigan, where he was also awarded the Chiara Marie Levin Award for Breadth and Excellence in the Romance Languages. Additionally, he holds an MA in Latin American Studies from Tulane University, where his thesis focused on the deployment of hegemonic masculinity in Chile's LGBT movement.