A Storyteller's Story Video                                                                                                                                                       2011
By Matthew Foster, Florencia Marchetti, Rachel Rotrand, and Alejandro Yoshizawa
(Produced by Erica Lehrer and Monica Eileen Patterson for CDK Productions)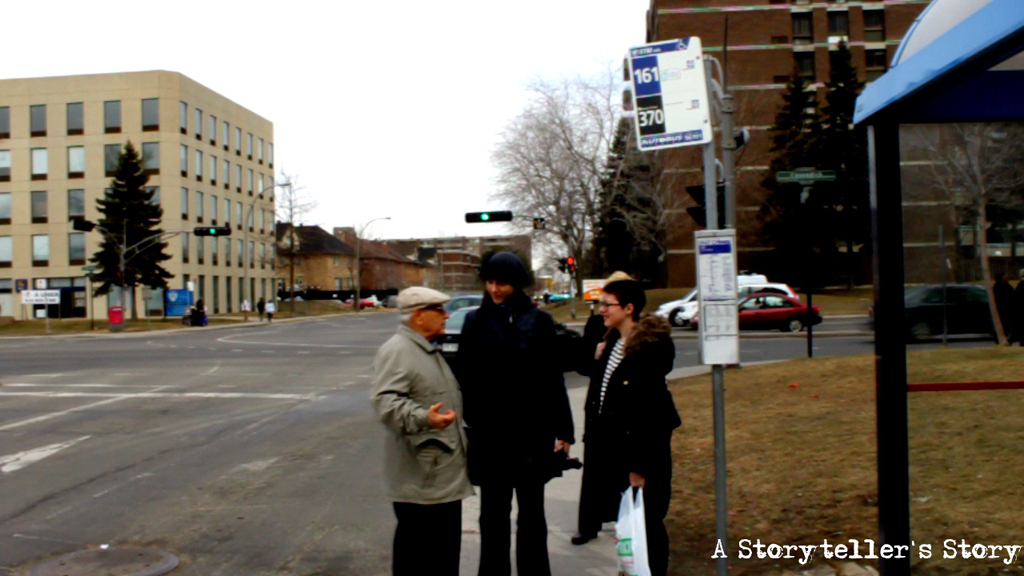 Artist Statement
This video came about as a result of a seminar offered at Concordia University in the winter semester of 2011, called Curating Difficult Knowledge: Engaging with the aftermath of violence through public displays, memorials, and sites of conscience. During this seminar we, as students, were given the challenge of developing a public display that engaged with a Holocaust survivor's testimony, recorded on DVDs by Concordia's Centre for Oral History and Digital Storytelling for the Montreal Life Story's Project. Our group was given the video testimony of Ted Bolgar, a Jewish Hungarian Holocaust survivor residing in Montreal.
Following the viewing of his testimony, we were able to meet with Mr. Bolger a number of times to talk with him about his role as a Holocaust storyteller and educator. We learned that Mr. Bolgar has been giving public presentations about his experiences during World War II for the last twenty-five years, and through the retelling of his story, hundreds of times, he has developed a standardized, highly compelling narrative. He understands the transmission of his story to future generations to be a moral duty, fulfilling the mandate to ensure the world never forgets the Holocaust, and in the last few years the frequency of his presentations has turned this activity into what he calls "his full-time job."
Our project explores the quotidian and repetitive nature of Mr. Bolgar's testimony, and poses critical questions regarding the transmission and reception of difficult knowledge: How do we know about the Holocaust? What do we expect from Holocaust survivors?  As viewers of Holocaust testimony do we privilege certain ways of telling over others? Our video installation engages in a critical examination of the possibilities of telling and listening, educating and learning about Holocaust history, and challenges viewers to acknowledge their own assumptions and/or expectations of Holocaust testimony.
Watch the video on YouTube
The recorded testimony used in this project was made available courtesy of Ted Bolgar, as part of the Montreal Life Stories project.
Biographies
Matthew Foster is a recent graduate of Concordia University who specialized in History. He is now pursuing a Master's degree at the University of Toronto in Library and Information Studies.
Florencia Marchetti is an anthropologist and documentarian currently pursuing a PhD in Humanities at Concordia University, in Montreal. Her photo work has been published and filed as part of the Provincial Memory Archive in her native city of Cordoba, Argentina. She completed a video essay called Haunting Presences (2007, 42') as thesis for her MA in Social Documentation from the University of California in Santa Cruz, USA.
Rachel Rotrand recently finished a BFA in Art History and Studio Arts, with a minor in Religion, at Concordia University. Originally from Oakville, Ontario, Rachel is currently completing an MA in Art History at the University of Leeds.
Alejandro Yoshizawa is a Master's student in the History Department at Concordia University in Montreal, Canada.  His past films include From Issei to Sansei: The History of My Grandfather's Life (2008), and Vancouver's Chinatown: Past, Present, and Future (2009).  He is currently working on his next film, The Hunt For Matsutake.