Shrines of Citizenship [PORTUGAL] 
EBANO Collective (Ethnography Based Art Nomad Organization)
Lorenzo Bordonaro (artist & anthropologist) | Chiara Pussetti (artist & anthropologist) | Vitor Barros (artist & anthropologist)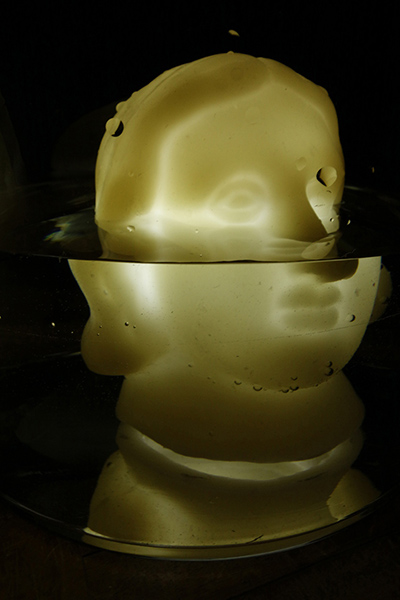 Image Credit: Installation View of Shrines of Citizenship. 2013. Image courtesy EBANO Collective.
PROJECT SUMMARY
The EBANO Collective uses diverse art forms and media to explore the imaginaries ascribed to migration. Based upon several years of anthropological fieldwork with immigrant communities in Europe, their multimedia installation 'Shrines of Citizenship' invites visitors to reflect upon the recent tightening of European migration policies, as well as the physical, bureaucratic, and symbolic barriers undocumented immigrants around the world face when pursuing the dream of citizenship. Water, wax, and other devotional objects, such as an encased passport, allude to the complexity of mobility and citizenship along all national borders, specifically evoking the memory of the thousands of people that in the last decades disappeared in the Mediterranean sea attempting to reach Europe's southern border.
BIOGRAPHIES
Lorenzo Bordonaro (Portugal) is the president of the EBANO Collective. As an anthropologist and artist he has conducted research on youth, childhood, creativity, and urban marginality in Guinea Bissau (since 1996), Cape Verde (since 2007), and Lisbon. He is currently exploring the intersections between public art, ethnography, and urban intervention.
Chiara Pussetti (Portugal) is an anthropologist who has published extensively on the subjects of the anthropology of body and emotions, medical anthropology, and migration studies. She is a member of the EBANO Collective. Her extensive fieldwork looks at mental health and emotions in Guinea Bissau and Portugal.
Vitor Barros (UK) is a PhD candidate at King's College London (UK) and a researcher in the areas of history of medicine, public health, and the social care sector. He is also an independent photographer and multimedia producer. Together with fellow EBANO Collective member Chiara Pussetti he curated the exhibition Woundscapes in Brazil.
WEBSITE:
http://www.ebanocollective.org/
http://www.woundscapes.com 
GALLERY ENCOUNTERS
Shrines of Citizenship
The EBANO Collective
Date: Monday 18th, Wednesday 19th, Thursday 20th, and Friday 21st November 2013
Time: 12-3pm
Short Description: Come by during the Arts Incubator Public gallery hours to experience The EBANO Collective's interactive work—a shrine about citizenship where one must travel through obstacles (real and imagined) in order to light a symbolic candle.
https://arts.uchicago.edu/content/ethnographic-terminalia-program-shrines-citizenship-1
This project is funded by the EBANO Collective and the Calouste Gulbenkian Foundation