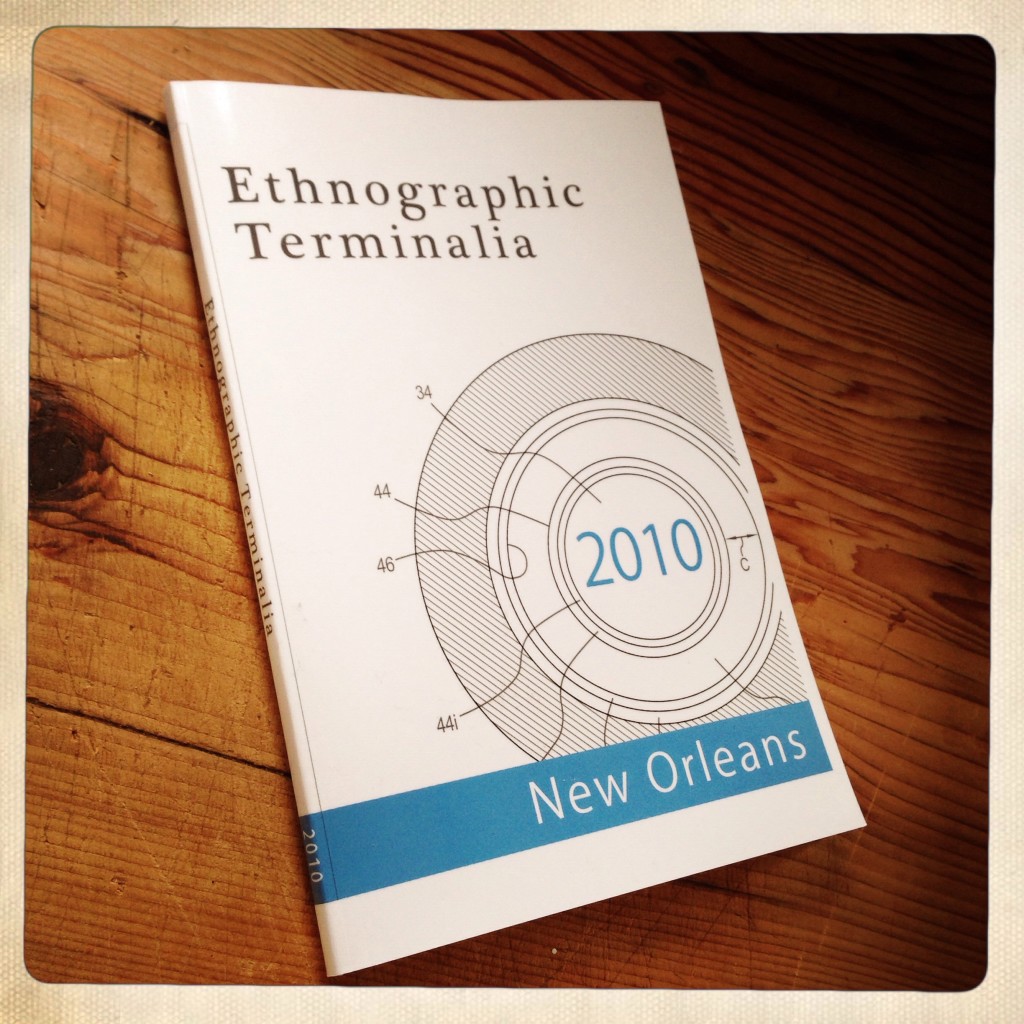 Ethnographic Terminalia Curatorial Collective [INTERNATIONAL] 
Craig Campbell (anthropologist)
Kate Hennessy (anthropologist)
Fiona P. McDonald (anthropologist)
Thomas Ross Miller (anthropologist)
Trudi Lynn Smith (artist & anthropologist)
Stephanie Takaragawa (anthropologist)
PROJECT SUMMARY
The curators of Ethnographic Terminalia will act in two capacities over the week of the Residency. First, they will work with fellow Residents to articulate possibilities associated with exhibition and public engagement for collaborating artists and anthropologists. Second, members of the collective take the opportunity to reflect upon their first five years of experimentation with the intersections of anthropology and art, and elicit public feedback to documentation of past exhibitions in San Francisco (2012), Montreal (2011), New Orleans (2010), and Philadelphia (2009) to plan future iterations of the project.
BIOGRAPHIES
Craig Campbell (USA) is Assistant Professor of Cultural Forms and Anthropology at the University of Texas, Austin. His ethnographic, historical, and regional interests include: Siberia, Central Siberia, Indigenous Siberians, Evenki, Evenkiia, Reindeer hunting and herding, Travel and Mobility, Socialist Colonialism, early forms of Sovietization, and the circumpolar North.
Kate Hennessy (Canada) is an Assistant Professor at Simon Fraser University's School of Interactive Arts and Technology (SIAT). Her research explores the role of digital technology in the documentation and safeguarding of cultural heritage, and the mediation of culture, history, objects, and subjects in new forms. Her video and multimedia works investigate documentary methodologies to address Indigenous and settler histories of place and space.
Fiona P. McDonald (UK/Canada) is a PhD Candidate at University College London (UCL) in the Department of Anthropology (Material Culture & Visual Anthropology). Her current research is a visual and material ethnography that looks the aesthetic transformation(s) of woolen blankets in contemporary art, craft, Indigenous regalia, and customary art in Canada, the USA, and Aoteaora New Zealand.
Thomas Ross Miller (USA) is an Associate Professor of Liberal Arts at Berkeley College, director at independent Curatorial Consulting in Brooklyn, and Adjunct Instructor at NYU's Clive Davis Institute of Recorded Music. His interdisciplinary and multimedia work incorporates sound, shamanism, visual representation, museum studies, ethnomusicology, and the history of anthropology.
Trudi Lynn Smith (Canada) is an artist and visual anthropologist who studies practices of photography. She currently holds a position at York University as a SSHRC Post Doctoral Fellow in the Department of Humanities. In writing, artworks, and performances, she explores the photograph as event, following fleeting moments and shifting visualities in archives and on the ground.
Stephanie Takaragawa (USA) is an Assistant Professor of Sociology at Chapman University (Orange, CA). Her current research looks at representations of Japanese-American internment discourses at the interpretive centers now built at the Manzanar Relocation Center in California and Heart Mountain in Cody, Wyoming.
WEBSITES:
http://www.ethnographicterminalia.org
https://www.facebook.com/groups/terminalia
GALLERY ENCOUNTER
Program: Exhibition as Residency—Art, Anthropology, Collaboration Roundtable
Date: Friday 22 November 2013
Time: 4-5:30pm
Short Description: To wrap up "Exhibition as Residency" this roundtable discussion will allow the residents and the public to reflect on the residency and the works produced at the intersection of art and anthropology in the gallery space.