Estranging Identity: A Child Holocaust Survivor's Struggle with Jewishness
Audio 2011
By Selina Antonucci, Ashley Clarkson, & Katie King
(Produced by Erica Lehrer and Monica Eileen Patterson for CDK Productions)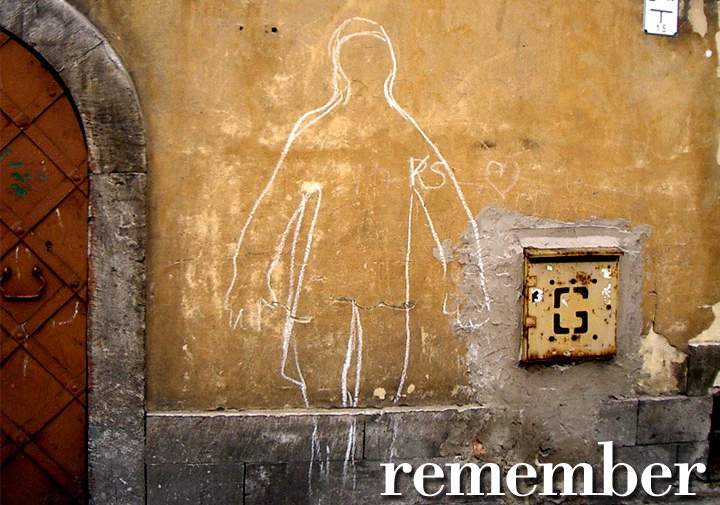 Artist Statement
This audio installation is based on testimony by Dr. Yehudi Lindeman, a Dutch child survivor of the Holocaust. It traces his lifelong struggle with his identity, stemming from his experience of persecution as a Jewish child separated from his family and in hiding during the Nazi occupation of Holland during World War II.
The installation urges visitors, regardless of their own backgrounds, to reflect on the question of identity and the role of communities of memory in its formation and representation. Despite the Nazi imposition of a racialised notion of "Jew" as a core component of their genocidal policy, popular discourses of Holocaust memorialization also often take the term "Jew" for granted, as a stable and clear identity category. But close attention to individuals' life stories can reveal complex negotiations with available identity categories across their lifespans – particularly in cases of identity categories that have been sites of profound stigmatization and struggle.
Yehudi Lindeman's testimony troubles the notion that Jewish survivors could simply "return" postwar to stable Jewish identities they had inhabited in the prewar period. Indeed, Yehudi's experience unsettles key images of Jewish victimhood; not only did Yehudi not see himself as a victim, he was painfully ambivalent about Jews and his own Jewishness during and after the war, in part an artefact of the anti-Semitism he himself had been subject to as a youth.
The effects of Yehudi's wartime experiences on his sense of self stayed with him long into adulthood and shaped his life's work. For many years Yehudi did not consider himself a Holocaust survivor, and to this day has difficulty identifying himself by his family name. Our goal in this project is to convey the complexities of identification, and particularly the ways they are further complicated by war and persecution.
This piece was created for the Advanced Public History seminar Curating Difficult Knowledge at Concordia University in Winter 2011.
Estranging Identity: A Child Holocaust Survivor's Struggle with Jewishness

The recorded testimony used in this project was made available courtesy of Yehudi Lindeman, as part of the Montreal Life Stories project. 
Biographies
Selina Antonucci is an Honours in Public History with Internship student at Concordia University with an interest in European Medieval and Oral History. She is currently interning at the Jewish Public Library and working on an upcoming spring exhibit based on the works of the late photographer Norman Epelbaum.
Ashley Clarkson is an honours Public History student at Concordia University, interested in Social and Oral history. In 2009 she was awarded the Gordon Ritchie Scholarship in Canadian History.
Kathleen King is a recent graduate of Concordia University with a Specialization in Cultural Anthropology. Her area of interest is in African studies, global development, and immigrant and refugee rights in Canada. Currently she is an intern at Life Stories Montreal, helping to gather the testimonies of Montrealers displaced by war, genocide, and other human rights violations.