Self-Repair [Norway]
Charlotte Bik Bandlien (anthropologist) | HAiK with us! (fashion design label) | Ruben Steinum (artist)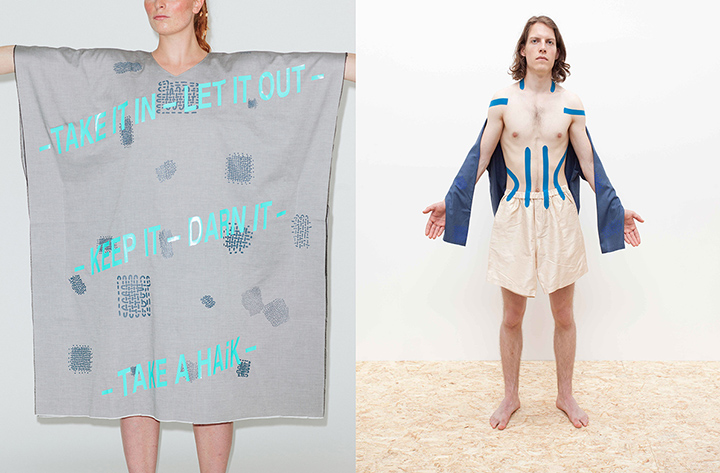 Image Credits:
HAiK with us!
Image courtesy the design label. 2012.
PROJECT SUMMARY
Integrating critical discourses of art, anthropology and fashion, this team explores the notion of "self-repair". The project is an extension of a residency in Norway at the Rogaland Art Center that investigated the notion of repair in terms of the relationship between the industrial manufactured and touch of hands with needle and thread. For Chicago, this collective expands the notion of repair to research the topic of "self-repair" (ex. self-help, life coaching, positive thinking, aura-reading etc.). In line with the experimental ambition of the Residency in the Arts Incubator, their research in Chicago explores similarities between anthropological and artistic methods in terms of participant observation and subjective interpretations. During the Residency they are developing a pattern inspired and informed by this research specific to Chicago. The pattern will be further developed after the Residency, and the research from Chicago will form the basis for a Chicago-line within the HAiK collection for 2015.
BIOGRAPHIES
Charlotte Bik Bandlien (Norway) is an Oslo-based anthropologist specializing in material and visual culture. She is an Assistant Professor and course Director at the Oslo National Academy of the Arts in the Department of Design (since 2011), and a contributing editor to the Norwegian fashion journal, Personae.
Ida Falck Øien (Norway) is an Oslo-based artist with a background in fine art and design. She is cofounder of the clothing label and collaborative platform HAiK with us! (since 2011) and is currently working on a commission for the Odontological (Medical) Faculty of the University of Bergen to create uniforms.
Ruben Steinum (Norway) is an artist who lives and works in Oslo. He received his BFA from the Oslo National Academy of the Arts and is currently the Deputy Chair at the Young Artists Society. Recently he launched the publication Casual Maneuver—A Step Away from It at the exhibition spaces Entreé and Kunsthall Oslo.
WEBSITES:
http://cbb.no/index.php?/about/
http://www.haikwithus.com/?page_id=150
http://rubensteinum.com
This project is funded in part by OCA—Office for Contemporary Art Norway