In association with camra and collaborating curator Arjun Shankar, Ethnographic Terminalia presents:
Bad Friday Goes to Africa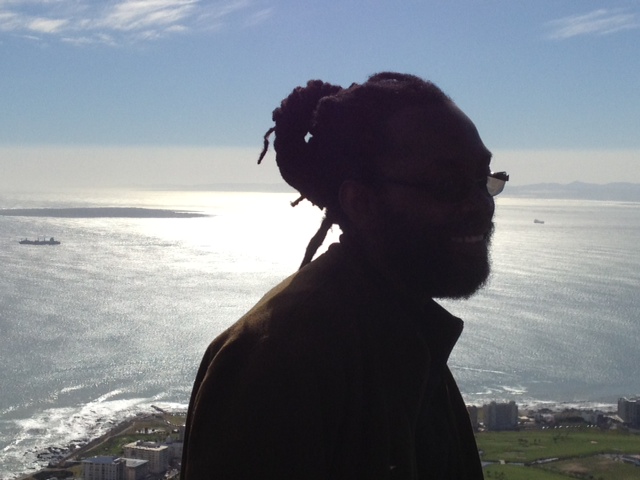 In August of 2012, Arjun Shankar and Mariam Durrani accompanied Dr. John Jackson and Dr. Deborah Thomas from the University of Pennsylvania, Cape Town filmmaker Kurt Orderson of Azania Rising Productions, the Rasta band Ancient Vibrations and Rasta elders to screen the film Bad Friday to the Rasta diaspora in three cities: London, Cape Town, and Johannesburg." Mariam and Arjun collaborated on documenting the journey including the films "Beating as One: The Music of Ancient Vibrations" and "Rasta Rights and Reparations: Bad Friday Tour."
This installation seeks to create a novel sensory re-creation of the journey, juxtaposing photographs from the events with scrolling transcriptions of community member commentary and audio footage from the Ancient Vibrations musical performances. Together these pieces provide partial perspectives on how we make sense of transnational movements of people and ideas, with a specific focus on how diverse sensory processes challenge perceptions and normative representations of Rastafarian life, values, and culture.
Biographies
Mariam Durrani: Mariam Durrani is a teacher, writer, and ethnographer. She is currently in a joint PhD degree program from at the University of Pennsylvania in Anthropology and Educational Linguistics.
John L. Jackson, Jr., is Dean of the University of Pennsylvania's School of Social Policy and Practice.  He also is the Richard Perry University Professor of Communication, Africana Studies, and Anthropology. Dr. Jackson's research examines racial and class-based differences in contemporary urban environments, including a focus on how urbanites themselves theorize and deploy those differences in everyday interactions
Deborah Thomas – Thomas is Professor and Chair of the Graduate Group in the Department of Anthropology at the University of Pennsylvania. She is the author of Modern Blackness: Nationalism, Globalization, and The Politics of Culture in Jamaica, Exceptional Violence: Embodied Citizenship in Transnational Jamaica, and co-editor of the volumeGlobalization and Race: Transformations in the Cultural Production of Blackness. Prior to her life as an academic, she was a professional dancer with the New York-based Urban Bush Women.
Junior "Gabu" Wedderburn – Wedderburn is an accomplished percussionist who has performed and recorded with a variety of well-known reggae artistes, and who has also composed percussive scores for dance. His own percussion group, Ancient Vibrations, presents traditional Afro-Jamaican rhythms and chants, the roots of reggae music. Wedderburn has played with The Lion King on Broadway since it began development in 1997.
Arjun Shankar –  Arjun is a teacher, writer, researcher, and mediamaker. He is currently getting his PhD from the University of Pennsylvania in Anthropology and Education and his dissertation research weaves together education NGOs, the Kannada film industry, sericulture, educational aspiration, and everyday violence into a single story of rapid change and development in villages surrounding Bangalore. He is a co-founder of camra, a collective of researchers and educators committed to participatory, experimental mediamaking (www.camrapenn.org). He is also a co-director of the Center for Curiosity, which engages in transdisciplinary research into the concept of 'curiosity' with the specific purpose of creating curricular tools for teachers and students. He encourages teachers at all levels to "think with multimodality", making the audiovisual part of classroom instruction as well as classroom assignments.