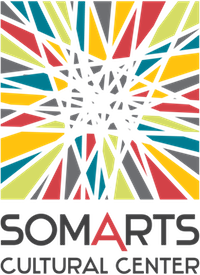 SOMArts Cultural Center is the hub space for the Audible Observatories exhibition.  Over three days we will be showing works by over twenty-four artists and hosting a variety of live events. SOMArts, the South of Market Cultural Center is located directly south of Union Square (about a mile and a half away).  It is roughly a 20 minute walk from downtown and a short cab ride away.
The opening reception for the SOMArts show will be held on Friday, November 16 from 5:00 – 9:00 p.m..  Karin Bolender will perform "Gut Sounds Lullaby" on November 18th at 2pm.
Hours for general visits.
November 16.  5pm – 10pm
November 17.  10am – 5pm
November 18.  noon – 5pm
Location & Directions
SOMArts Cultural Center
934 Brannan Street
San Francisco, CA 94103

View Ethnographic Terminalia 2012 in a larger map
The mission of SOMArts is to promote and nurture art on the community level, and to foster an appreciation of and respect for all cultures. Founded in 1979, SOMArts embraces the entire spectrum of arts practice and cultural identity, and it is beloved in San Francisco as a truly multicultural, community-built space where cutting-edge events and counterculture commingle with traditional art forms.