Re-connections: Coast Salish Knitting and Resilience in Chicago [CANADA]
Andrea N. Walsh (anthropologist) | Sylvia Olsen (historian) | Adam Olsen (artist) | Joni Olsen (artist) | Trudi Lynn Smith (artist &anthropologist)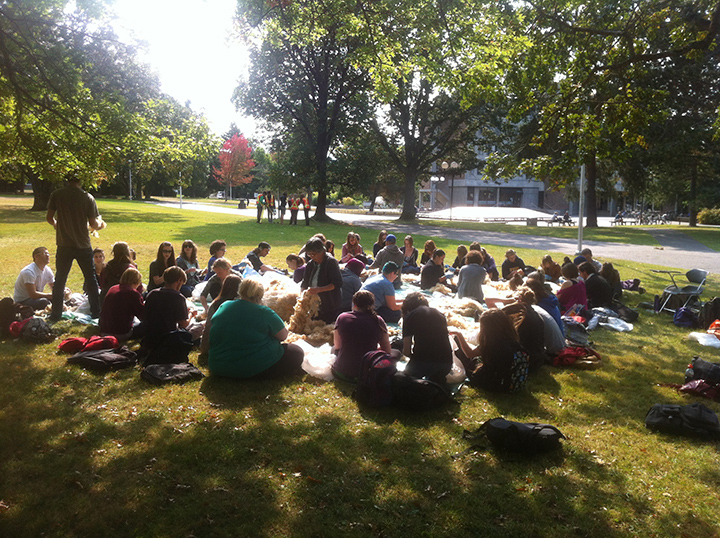 Image Credit: Visual Anthropology students are taught by artists in residence by Joni and Adam Olsen how to knit in the traditional Coast Salish style, and learn the cultural history of the art form in the process of working with the wool. 2012. Image by and courtesy of Andrea N. Walsh
PROJECT SUMMARY
Re-connection began as a conversation between Coast Salish knitters, anthropologists, historians, and artists about the tensions between academic knowledge production and creative practices in Indigenous communities. During the Residency, this conversation continues as the team uses local archives and collections at the Field Museum to retrace the exhibition of Coast Salish knitting in the 1893 Columbian World's Fair. Documentation of a ceremonial blanket performance they will stage at the 1893 monument entitled "A Signal for Peace" (C. Dallin, 1890), along with the historical data obtained from archival research, is used by the Coast Salish knitters to create new hand and machine knitted pieces in the gallery space.
BIOGRAPHIES:
Adam Olsen (Coast Salish from the Tsartlip First Nation near Victoria, BC, Canada) is a proficient machine knitter. He designs knitted fabric that he transforms into innovative wearable and household products. He is co-owner of Salish Fusion with his sister, Joni, and mother, Sylvia.
Joni Olsen (Coast Salish from the Tsartlip First Nation near Victoria, BC, Canada) is a hand and machine knitter who learned the art of making Cowichan Sweaters that she fuses with new knitting techniques and designs to make projects for her company, Salish Fusion, that she co-owns with her brother, Adam, and mother, Sylvia.
Sylvia Olsen (Canada) has a long history in First Nations wool working on Southern Vancouver Island. She studied the rich history of Cowichan Salish knitters for her master's thesis after having moved to the Tsartlip First Nation with her Coast Salish husband. She started the Olsen family Cowichan sweater business, Salish Fusion, and is the author of many historical fiction books for young people.
Andrea Walsh (Canada), a visual anthropologist and artist, is an Associate Professor at the University of Victoria. Her research with contemporary Indigenous artists focuses on art as a method of communicating Indigenous experiences of history and identity. She is Canadian with Irish, British, Scottish, Nlaka'pamux, and Sxw'whámel ancestry.
Trudi Lynn Smith (Canada) is an artist and visual anthropologist who studies practices of photography. She currently holds a position at York University as a SSHRC Post Doctoral Fellow in the Department of Humanities. In writing, artworks, and performances, she explores the photograph as event, following fleeting moments and shifting visualities in archives and on the ground.
WEBSITES:
http://anthropology.uvic.ca/people/faculty/walsh.php
http://salishfusion.ca/coast-salish-sharing-their-traditions-at-uvic/
GALLERY ENCOUNTER (1)
Coast Salish Cowichan Knitting
Sylvia Olsen, Adam Olsen, Joni Olsen, Andrea Walsh, & Trudi Smith
Date: Wednesday 20 November 2013
Time: 12:30-1:30pm
Short Description: A public talk and demonstration with Coast Salish Cowichan Knitters from Canada.
https://arts.uchicago.edu/content/ethnographic-terminalia-program-coast-salish-cowichan-knitting
GALLERY ENCOUNTER (2)



Community of Knitters
Chicago-based Committed Knitters will be partnering up with the "Re-connections" team to participate in a gallery Knit-in on Wednesday 20 November 2013 12-3pm!
https://arts.uchicago.edu/content/ethnographic-terminalia-program-coast-salish-cowichan-knitting
https://arts.uchicago.edu/content/committed-knitters-program-southsid
e-economic-development-project-1
https://www.facebook.com/CommittedKnitters
This project funded in part by First Peoples' Heritage, Language & Culture Council