Broad Channel
Video
2010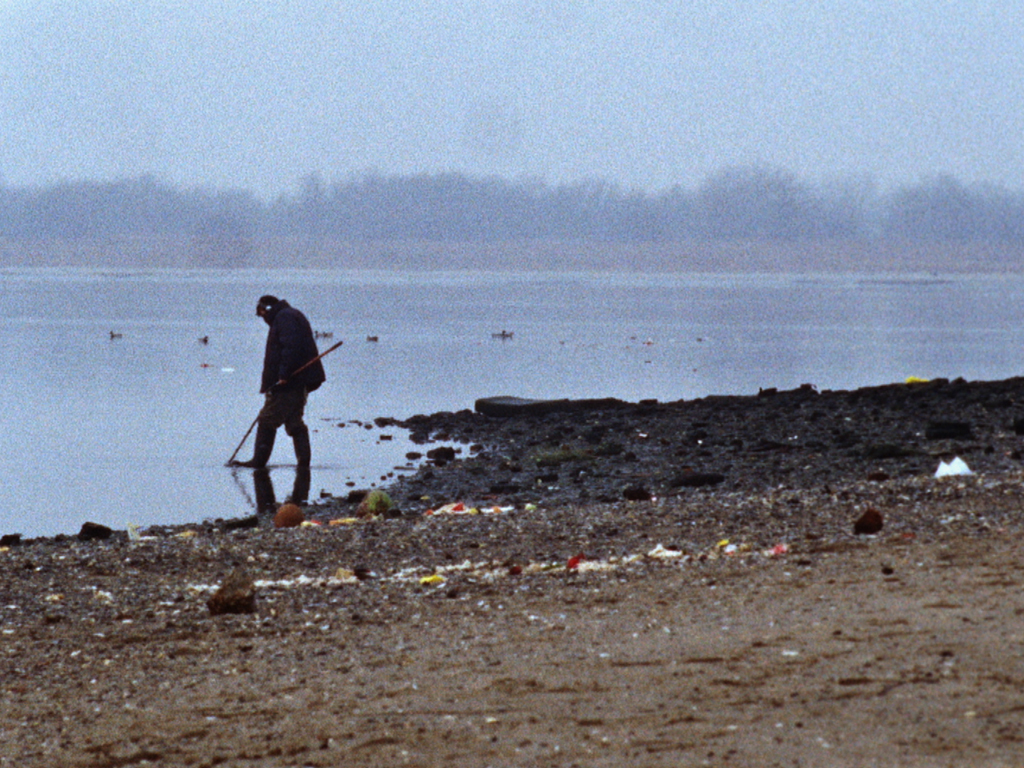 Artist Statement
Over the course of four seasons, the nuances of everyday activity are closely examined along one narrow stretch of public shoreline in New York City's Jamaica Bay. Moments of recurrence and change cycle through an ecosystem rooted in migration. Soon after relocating to New York, I set out with Google satellite imagery with the goal of exploring the green and beige parts of the outer boroughs. I stumbled upon an unlikely subject for a film, a dirty strip of beach sandwiched between a landfill and JFK on Broad Channel Island in Jamaica Bay. I immediately became fascinated by the variety of people and wildlife that were drawn to Broad Channel and spent the next year regularly filming on 16mm and recording over fifty hours of audio field recordings. Rulers Bar Hassock, commonly known as Broad Channel Island, is the only inhabited island in the tidal estuary of Jamaica Bay in Queens, New York. It is remote by Manhattan standards, but easily accessible by car and subway. The island is dominated by the Jamaica Bay Wildlife Refuge, nine thousand acres of marshland that is home to a rich diversity of birds, plants, and other wildlife. Occupying the southern end of the island is the neighborhood of Broad Channel, a tight-knit community of three thousand residents.
The film centers on the public beach at the northern tip of the island. Here, the shoreline is bisected by Cross Bay Boulevard, with wide parking lots on either side. A first encounter with this beach is both familiar and strange. It is a tenuous, evolving ecosystem, constantly in flux. People of all ages and ethnicities arrive and depart in waves, interacting with one another and their environment in seemingly commonplace ways–fishing, worshipping, scavenging, gazing. These human endeavors are carried out in parallel with the naturally occurring processes occurring above and below the surface.
Outdoor public spaces serve a profound need for New York residents, a respite from crowded streets and cramped apartments. Water is also a reflection of home; from certain angles, one might be on the shores of Guyana, or on a riverbank in China. While it is marred by industrial and commercial interference, there is a rare freedom enjoyed in an open space that is accessible and undefined. The film is a closely observed meditation on the complex relationship between people and their environment, a microcosm revealed over the course of one year.
Biography
Sarah J. Christman's non-fiction films examine the intersection between people, technology and the natural world. Her film "Dear Bill Gates" won the New Visions Award at the San Francisco International Film Festival, and the Ann Arbor Film Festival awarded her Most Promising Female Filmmaker in 2007. Christman's films and videos have screened at the International Film Festival Rotterdam, Brooklyn Academy of Music, The Philadelphia Museum of Art, Ann Arbor Film Festival, Atlanta Film Festival, Chicago Underground Film Festival, European Media Arts Festival, Oberhausen, Antimatter, SXSW, and the Athens, San Francisco, and Seattle International Film Festivals, among other venues. A Philadelphia native, Sarah received an MFA in Film & Media Arts from Temple University and a BA from Oberlin College. She currently lives and works in New York City, where she is an Assistant Professor in the film department at Brooklyn College.