Siren
Audio installation
2012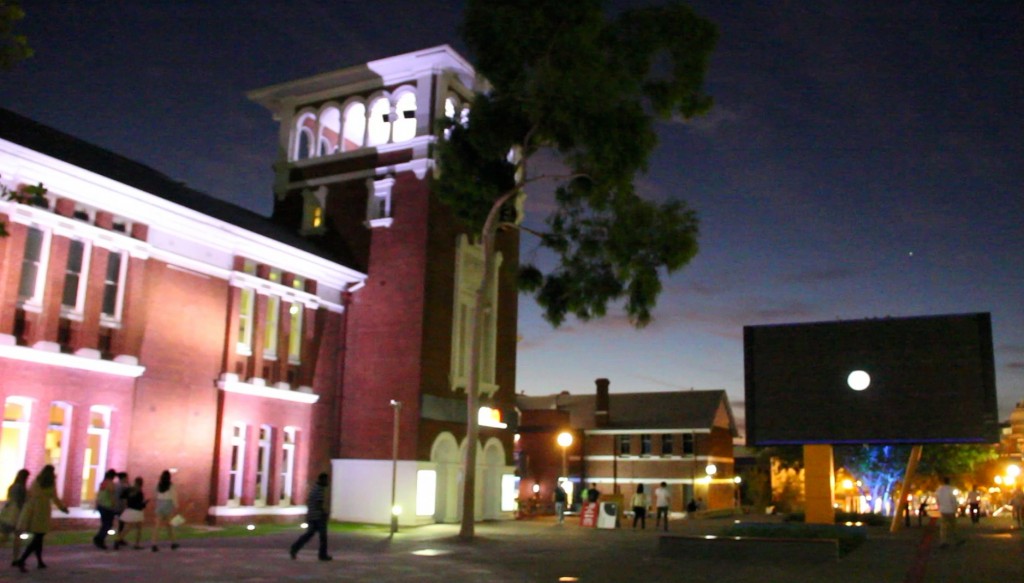 Artist Statement
Siren is an evocative and ephemeral sound installation that temporarily transforms its immediate environment. Disembodied voices travel into a flood of sound and harmony, reaching a frenetic pitch before fading back into stillness and silence.
This work was originally designed for the tower of the Perth Institute of Contemporary in Western Australia. It was activated once per day at nautical sunset and was accompanied by an installation of pulsing light. Siren loosely references the maritime symbols of the lighthouse, which guides lost ships away from a hazardous shore, and the siren, whose haunting voice lures sailors to their deaths. Siren plays on tensions between drowning and drying, loss and desire, memory and forgetting, consciousness and oblivion.
Siren developed through collaborations between artist Thea Costantino, composer Tim Cunniffe and an amateur choir, the Churchlands Choral Society. The choristers have shared not only their voices but also their experiences in the creation of this work. Costantino developed the libretto based on the choir's thoughts and experiences of loss and recovery, from which Cunniffe constructed Siren's sound world, leading to an ephemeral and poetic reactivation of space and an opportunity for pause and reflection in the night streets.
Biography
Thea Costantino is an interdisciplinary artist based in Perth, Australia, whose work explores the representation of the past. She holds a PhD from Curtin University, where she also works as an academic in the School of Design and Art. Thea is a member of the collective Hold Your Horses, formed with Tarryn Gill and Pilar Mata Dupont in 2009. She is a recipient of the 2011 Qantas Foundation Encouragement of Australian Contemporary Art Award and the 2012 Artsource / Gunnery Artist Exchange Program, Artspace, Sydney.
Tim Cunniffe studied Classical Piano at the Western Australian Academy of Performing Arts (WAAPA, graduating in 1994). During his third year he received a scholarship which enabled him to study with Frank Iogha at the State University of New York, and more recently studied conducting with Dobbs Franks. Tim has built a reputation as a leading conductor, accompanist, and Musical Director for theatre productions. His first major composition, the chamber opera "African Queen" was given its premiere performance at the Dolphin Theatre in March 2009, and his first musical "Some Kind Of Beautiful" was premiered in July 2009 by the Brainbox Project at His Majesty's Theatre. He is currently based in Sydney.
The Churchlands Choral Society is mixed choir of around 80 amateurs who sing a wide ranging repertoire including sacred music, songs from musicals, folk songs, jazz, world music, opera choruses and also major works like Faure's Requiem and Handel's Coronation Anthems.
Website
theacostantino.com