Download PDF: Arts and Public Life Program

18-22 November 2013
Gallery Hours
Monday, Wednesday, Thursday | 12-3pm
Friday | 12-6pm

Reception: Friday 22 November 2013 | 6-9pm
Location: Arts Incubator in Washington Park, Second Floor Project Flex Space 
Short Description: Come out to meet with artists, anthropologists, and local community members to experience the work produced during "Exhibition as Residency—Art, Anthropology, Collaboration". Video screenings, paintings, First Nations knitting, a shrine, fashion & textile design, as well as a site-specific sculptural habitat will all be on display. Participating artists and anthropologists will be present to talk with about their work.
Sponsored by: University College London (Department of Anthropology)
Entry is free
Download PDF: Reception and Closing Event (Ethnographic Terminalia 2013)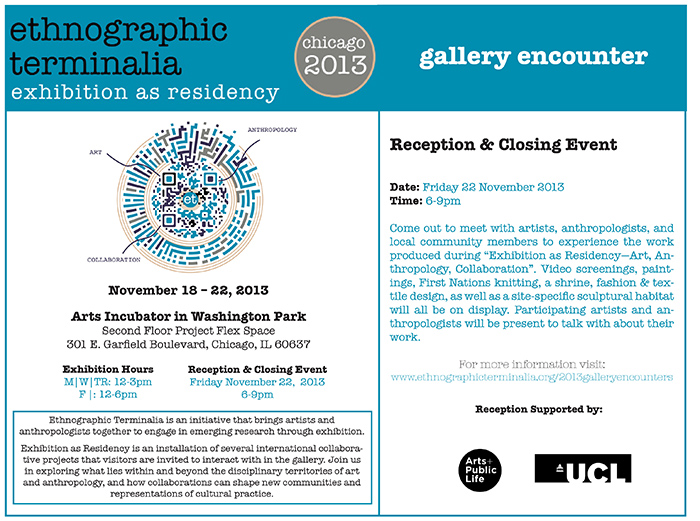 The Ethnographic Process of Portrait-Painting with Zoe Bray
Date: Monday 18th, Wednesday 19th, Thursday 20th, and Friday 21st November 2013 
Time: 12- 3pm
Short Description: Every 20mins, the artist will break from painting a model to talk with visitors about her unique ethnographic process.
Download PDF: Zoe Bray Portrait Painting (Ethnographic Terminalia 2013)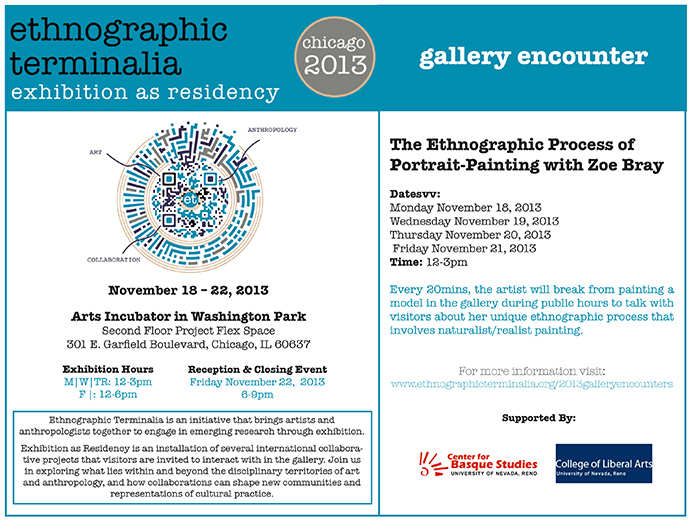 Habitat With Ian Kirkpatrick
Date: Monday 18th, Wednesday 19th, Thursday 20th, and Friday 21st November 2013 
Time: 12- 3pm
Short Description: Visit the Arts Incubator during public gallery hours to observe and talk with artist Ian Kirkpatrick as he works within his sculptural structure (a decorated container), a critical reflection on the nature of museum objects and artefacts.
Download PDF: Habitat with Ian Kirkpatrick (Ethnographic Terminalia 2013)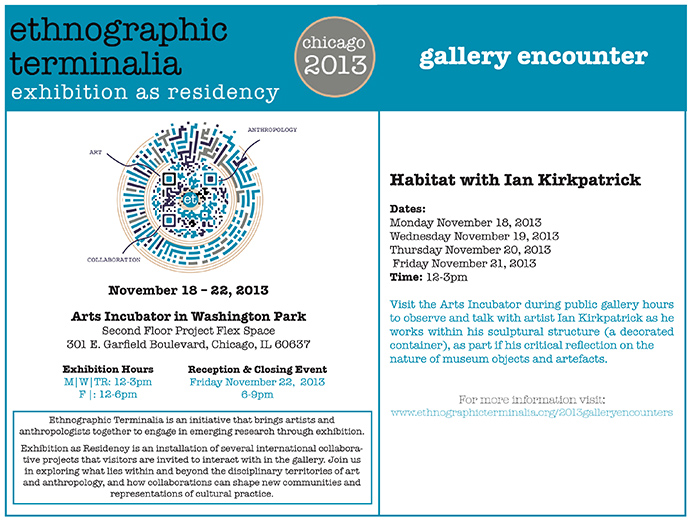 Shrines of Citizenship
The EBANO Collective
Date:  Monday 18th, Wednesday 19th, Thursday 20th, and Friday 21st November 2013
Time: 12-3pm
Short Description: Come by during the Arts Incubator Public gallery hours to experience The EBANO Collective's interactive work—a shrine about citizenship where one must travel through obstacles (real and imagined) in order to light a symbolic candle.
Download PDF: Shrines of Citizenship (Ethnographic Terminalia 2013)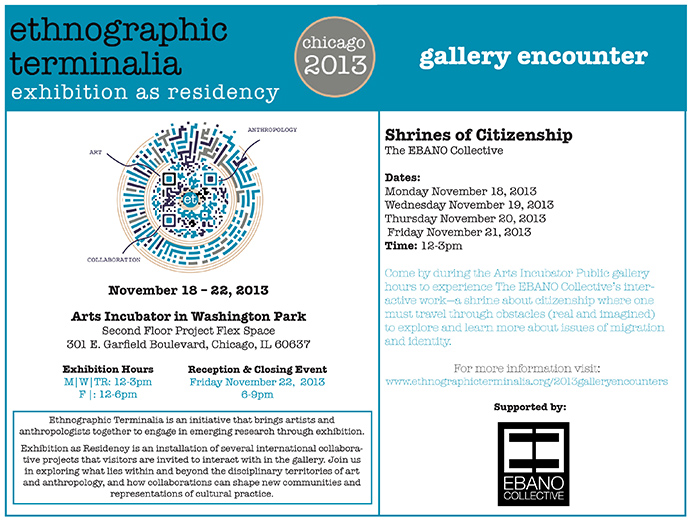 Coast Salish Cowichan Knitting
Sylvia Olsen, Adam Olsen, Joni Olsen, Andrea Walsh, & Trudi Smith
Date: Wednesday 20th November 2013
Time: 12:30-1:30pm
Short Description:  A public talk and demonstration with Coast Salish Cowichan Knitters from Canada.
Download PDF: Coast Salish Knitting Presentation (Ethnographic Terminalia 2013)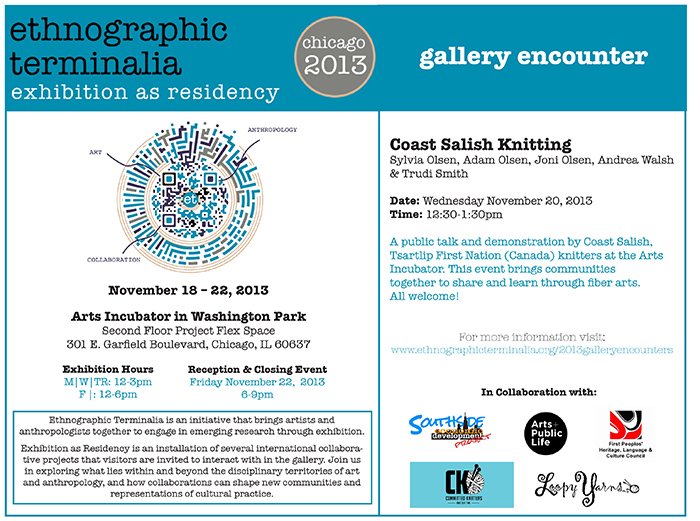 Visualizing Place through Art and Anthropology
Robert Willim (anthropologist) | Jesse Colin Jackson (artist), Tori Foster (artist), Lindsay A Bell (anthropologist)
Date:  Thursday 21st November 2013
Time: 2-3pm
Short Description: Join in with artists and anthropologists as they share through an open discussion and interactive engagement how they experiment with visualizing communities through film and digital media.
Download PDF: Visualising Place (Ethnographic Terminalia 2013)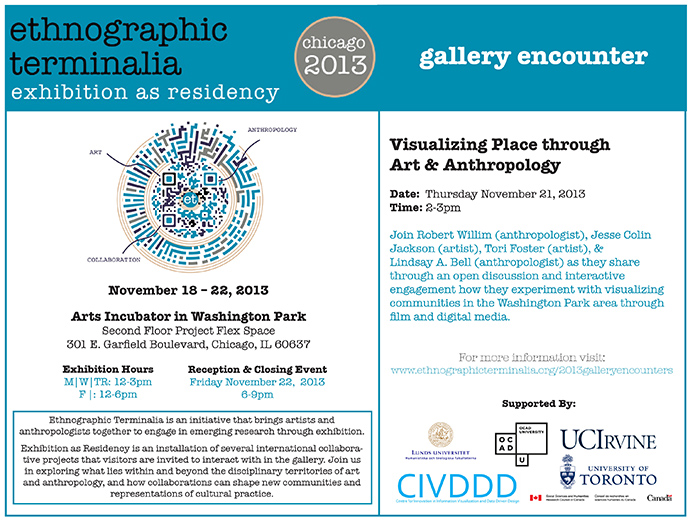 Exhibition as Residency—Art, Anthropology, Collaboration Roundtable
Date:  Friday 22 November 2013
Time: 4-5:30pm
Short Description: To wrap up "Exhibition as Residency" this roundtable discussion will allow the residents and the public to reflect on the residency and the works produced at the intersection of art and anthropology in the gallery space.
Download PDF: ET 2013 Roundtable (Ethnographic Terminalia 2013)

Other events of interest around Chicago…
112th American Anthropological Association
Thursday, November 21, 2013: 8:00 AM-11:45 AM
(3-0275) VISUALITY in MULTI-MODAL COMMUNICATIVE ECOLOGIES: THEORY AND METHOD AT the INTERSECTION of LINGUISTIC AND VISUAL ANTHROPOLOGY
Visualizing Canada's Urban Arctic
Lindsay A Bell (University of Toronto) and Jesse C Jackson (Ontario College of Art and Design)
Thursday, November 21, 2013: 10:15 AM-12:00 PM
(3-0440) INDIGENEITY, LATINA/LATINO STUDIES, AND VISUAL ANTHROPOLOGY
To Reunite, To Honour, To Witness: Paintings From the Alberni Indian Residential School
Andrea N Walsh (University of Victoria)
Thursday, November 21, 2013: 10:45 AM
Through Navajo Eyes" Comes Home: Repatriation, Re«media»tion, and Documentary Film Practice in a Diné Community
Teresa Montoya (New York University)
Friday, November 22, 2013: 1:45 PM-3:30 PM
(4-0810) ARCHIVE AND KNOWLEDGE PRODUCTION
The Impermanent Return: Photography, Protected Areas and the Matter of Linnet Lake
Trudi L Smith (YORK UNIVERSITY)
Saturday, November 23, 2013: 1:45 PM-3:30 PM
(5-0850) CONTEMPORARY VISUAL RESEARCH METHODOLOGY
Ethnography and Naturalist Painting: Parallels in Ways of Seeing and Understanding the World
Zoe Bray (Center for Basque Studies, UNR)
Saturday, November 23, 2013: 8:00 AM-1:00 PM
(5-0010) THE ANTHROPOLOGIST IN THE WHITE CITY: TOURING CHICAGO'S 1893 WORLD'S COLUMBIAN EXPOSITION
Organizers:  Rebecca S Graff (University of Chicago) and Stephen E Nash (Denver Museum of Nature and Science)
Chairs:  William Green (Logan Museum of Anthropology, Beloit College) and Stephen E Nash (Denver Museum of Nature and Science)
Participants:  Carolyn Schiller Johnson (Field Museum), Rebecca S Graff (University of Chicago), Stephen E Nash (Denver Museum of Nature and Science) and Robert Rydell (Montana State University)
CHICAGO AT LARGE
Field Museum
Opening the Vaults: Wonders of the 1893 World's Fair
http://fieldmuseum.org/happening/exhibits/opening-vaults-wonders-1893-worlds-fair
Newberry Seminar in American Indian Studies
http://www.newberry.org/american-indian-studies-seminar-series
The seminars feature scholarly discussion of papers based on work in progress. Faculty, graduate students, and independent scholars are encouraged to attend and to circulate news of this forum to colleagues. The seminar meets at the Newberry, Towner Fellows Lounge, on Wednesdays, 5:30 pm to 6:30 pm. Papers are pre-circulated electronically two weeks prior to the seminar date. Email mcnickle@newberry.org to request a copy of the paper. Please do not request a paper unless you plan to attend.
November 20, 2013
A New paradigm for Pre-Columbian Agriculture in North America
Jane Mt.Pleasant, Cornell University
SIAC
News from Nowhere: Chicago Laboratory
September 21–December 21
Opening reception: Friday, September 20, 6:00–8:00 p.m.
Sullivan Galleries, 33 S. State St., 7th floor
http://www.saic.edu/sullivangalleries/fullschedule/news-from-nowhere.html
News from Nowhere is both a stirring exhibition and an open platform for investigation of the world as it is today and as it could be imagined in the future. For this ongoing project Korean artists Moon Kyungwon and Jeon Joonho assembled a remarkable group of thinkers and practitioners to contribute to their research exploring the meaning, social function, and the role of the arts in contemporary times. Initially presented at Documenta (13) in Kassel, Germany in 2012, News from Nowhere continues to evolve with the Chicago Laboratory as its next, expanded iteration, which is also the first US presentation of this exceptional co-generative work. The exhibition includes two films by Moon and Jeon—El Fin del Mundo and Avyakta—as well as contributions by six of the artists' collaborators: architect Toyo Ito, fashion designers Kuho Jung and Kosuke Tsumura, mime Yu Jin Gyu, and design firms MVRDV and takram design engineering. As a laboratory, the exhibition will become a site of research and creative process, serving as a platform for lectures, workshops, performances, and other public programs that enable discourses to unfold.